This past February, I had the awesome experience of attending an all women's snowboard camp right here in our backyard at Mountain Creek in Vernon, NJ! What could be better than a beautifully made private terrain park, badass pro snowboarders to guide and inspire you, and a bunch of like-minded riders learning and progressing together?


What is it?
Beyond the Boundaries is a women's snowboarding camp that is open to women and girls of all ages, at an intermediate riding level or above. They offer a variety of trips, from backcountry riding in Canada and Japan, to completely park-focused clinics like the one I attended, hosted annually by Mountain Creek. For more information and the full list of pros involved check out the Beyond the Boundaries website, www.btbounds.com.

The coaches

Snowboarder Utopia!
Each day began with a gentle yoga session before heading out onto the hill. A closed off terrain park of small and medium features was set up for us, with a variety of jib and jump features. The park crew at Mountain Creek did a phenomenal job of creating a fun park that had something for everyone! While on the hill, we had some structured time in groups with our coaches, as well as time to "choose our own adventure" and work on tricks of our choosing. This structuring was really cool because we all have our own goals, and I feel like this was a great way to get some coaching on the specific things I came to learn!
Everyone gave each other space to try new things, encouraged each other and tons of cheering and good vibes were in the air. The coaches were seriously awesome and really made the experience. They lent not only their expertise, but also their positive energy and enthusiasm for the sport.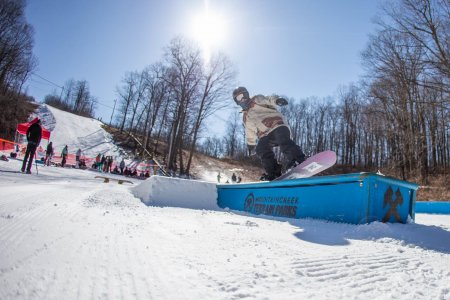 Taylor Elliot and Ari Marrone coaching at a down-box.




Why the Segregation?
So you, like I did, might be asking yourself, why do girls need their own special time to learn separately? It seems that for many, guys and girls just approach park riding differently. For a lot of girls, snowboarding is as much a mental game than anything else. For better or worse, women just THINK a lot. A lot of us need an extra moment to think through what we are doing before we do it. We seem to weigh the risks more, which leads to fear, which gets in the way of progression if you don't own that fear and decide to love it (an adaptation of some inspirational words from pro rider and coach Taylor Elliot!). I'm not saying girls can't or don't have a great time with the guys out there, but coming together with others like you who have the same goals is empowering! Since women are far outnumbered by men in snowboarding, it's important for women to continue to establish their presence in this sport and feel confident in it. If you're a female snowboarder out there, and these sentiments resonate with you, you will be among good company at BT Bounds!

I had a blast on the cannon rail. Maybe in my next lifetime I'll look as slick as pro-rider Summer Fenton (on bottom, dur). It was so fun hitting these features together with such inspirational ladies!


As for the future:
Should we keep this rolling in the North Jersey / Orange County area? I think it would be really cool in the future to have a local group of girls who are progression-oriented to meet up and ride in the future. It wouldn't be coaching exactly, just helping each other out at the mountain and having fun. If you have thoughts or suggestions, please email me at ocsnowboards1778@gmail.com, or hit us up on our facebook page!
OC Snowboards seriously has one of the best selections of women's snowboarding gear that I have seen in the area. (I was a customer before I began working here!) Our boards, boots and bindings will be displayed all summer long and are available through our website. 2020 models are priced to sell, baby! I had a chance to ride some of the 2021 models we will be carrying next season, definitely some exciting stuff to look forward to! More to come on that soon!


*I did not receive any compensation from Beyond the Boundaries or Mountain Creek to write this blog post. I was just an attendee who wanted to share my experience!

Photo Credits to Mary Walsh and Chris Vanderyajt