To help you stay healthy and active during the shutdown, here is a list of some local bike spots, complete with parking and access points, and even some historical factoids for your imagination on your ride! Read all the way to the end for some of our favorite resources we use to help us plan our rides!

COVID CLOSURES: From my research, New York State Parks are open, New Jersey State Parks and Forests are closed, most wildlife preserves seem to be open and county parks seem to vary, so check your town's website before heading out! All of these spots are all open!!


The Heritage Trail

Trail map: Trail Map on Traillink.com



The Heritage Trail is a 14.5 mile long paved trail from Goshen to Harriman. It is open to walkers, bikers, and rollerbladers. It is an easy going ride, with very gentle grades, letting you soak in the scenery! The trail goes through the village of Goshen, Chester and Monroe, winding through swamps, fields and woods along the way, ending in Harriman. There are a number of points of interest along the route and great food spots! The trail's western terminus is on Hartley Road in Goshen, and currently the eastern terminus is a dead-end in Harriman.

The Heritage Trail uses the land that once was home to the tracks of the Erie Railroad. The railroad's main line once stretched from Piermont, NY, up through Goshen, over to Carbondale in PA, through western New York below the Finger Lakes, and ended in Dunkirk, NY on the shores of Lake Erie! The stretch of track from Peirmont to Goshen was opened in 1841, and the the entire length of the main line was completed in 1851. A number of offshoots were also created, including a branch from Chester to Newburgh completed in 1850.



Access Points/Parking:
Hartley Road in Goshen. Note there is only room enough for 2 or 3 cars here.

St.James Place, a large lot in Goshen, plenty of spaces and near the western terminus.

Chester Depot Museum, Village of Chester

Millpond Park Park-n-Ride in Monroe
Points of Interest along the trail:
6 ½ Station Sanctuary, a 62 acre bird sanctuary, a very serene sight!

Orange County Snowboards, Ski and Bike! We are located at the intersection of Old Chester Road! (Currently by appointment only)

Depot Museum in Chester, historical exhibits and events (Currently Closed)

Rushing Duck Brewery in Chester has a tasting room! (Currently Closed, but check these spots out in the future!)
Seven Lakes Drive, Harriman State Park
11mi From Silver Mine Parking Area to Reeves Meadow Information Center
Seven Lakes Drive is a beautiful stretch of roadway that winds through Harriman State Park. The roadway is smooth with a good shoulder, undulating hills and many picturesque lakes along the way. This is a shared roadway with cars, but is a common bike route. Keep in mind that if you choose to start at Silver Mine Lake that your ride will be mainly downhill going out, and uphill going back, but you can do it!

History Time!:
Seven Lakes Drive was completed in stages and went through a few different iterations before it became the road you use today. The earliest pieces of the road were constructed in the 1910s, connecting to Bear Mountain. The 7 mile stretch from Kanawauke Circle down to Sloatsburg was built in the 1960s. Before this was built, the Seven Lakes Drive followed Johnsontown Road, which is still in use today. At the time of its naming, the road indeed passed by seven lakes, as its name implies. But because of the changing of its route, it actually passes by nine lakes today. Woo hoo!


Although silver in those hills turned out to be just a legend, Silver Mine Lake / Parking area was once the home of a ski hill, the Silver Mine Ski Resort, operated from 1936 to 1986. Like many other small resorts in the Hudson Valley, Silver Mine was in its heyday in the 1960s. It had some variety in its terrain, what sounded like quite a comfy lodge, and even snowmaking equipment that was cutting edge for its time. However by the 70s, the resort did not have enough funding to upgrade to a chairlift, and was still using tow-ropes. The operators, with the support of patrons, made some attempts to receive funding from New York State to make upgrades, but they never came to fruition, and the resort eventually closed in 1986. It seems that many have a soft spot still in their hearts for Silver Mine, and in the winter some folks still hike it to ski or go sledding on the old ski runs.

Access Points/Parking:
Silver Mine Parking Area in Stony Point: Will come up as "Old Silver Mine" in Google maps, off of Seven Lakes Drive.

Late Tiorati: There is ample parking at Lake Tiorati if you wanted to cut this trip in half!

Reeves Meadow Information Center in Sloatsburg. Please note that Reeves Meadow is fairly limited in parking. Come early or on a weekday if you want to park here.
Points of Interest:
There are a handful of great restaurants in Sloatsburg. Just continue 1.5 mi past Reeve's Meadow Visitor Center and hang a left. (Most are offering takeout! Whats better than a picnic mid-ride anyway?)

The now defunct Silver Mine Ski Resort, scope it out for winter use!

There are many hiking options along Seven Lakes Drive if you wanted to make a whole day out of it! Just be sure to have a good map of Harriman, the trails can be kind of confusing.
Stewart State Forest



The Stewart State Forest located in New Windsor, NY has a great variety of trails through woods, wetlands and fields. It has 18 miles of gravel roads, and many mountain bike trails, most in the intermediate category, with a few easy. Biking is allowed on trails makes as such, as well as any multiple use trail. The Ant Hill trail is a fun and twisty intermediate trail, or check out Buchanan Oil (pictured to the right) for a nice open hill top and view!

Click here to see the trail map!

Access Points/Parking:

North end of Ridge Road and at Weed Road Google Maps

Along the shoulder of South and North Barron Roads outside the gates Google Maps

East of Drury Lane (Rt. 747) along Route 207 Google Maps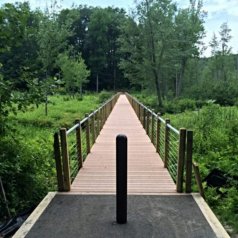 Resources to help you plan your bike trips!

bikehudsonvalley.com- A great website to get started on! This site links you to maps, as well individual county and town websites to get more info.

trailforks.com - A mountain bike centered site, but is expanding into other actives as well!

traillink.com- This site is very easy to us, has great maps and is free to sign up. I like how you can search by area, and see them all laid out on a map. It's a great way to find new spots!